2022-2023 Painting Packing Schedule
This calendar shows which Painting Collections need to packed for each member school on Wednesday Pack Days.
Procedure: On Wednesday Pack Days, School Reps must pack the collection listed below. Each painting should be placed in its labeled bag with the cardboard on the glass side. All the packed paintings need to be placed in your school's designated location for the BOE driver to pick up. (If you are not sure of the location, please confirm with your school's secretary.) Packing must be complete by Wednesday as the driver picks up very early on Thursday morning. Paintings are delivered to the school listed below yours on the schedule. (Orchard receives from Central). If your paintings are not ready for pick-up on Thursday morning, you will be responsible to transport the paintings to the next school. Please notify them accordingly.
Please ensure you have packed all paintings in the collection. Click on the collection number below to see an individual image of each painting in the collection.
For a printable PDF version of this calendar, click here.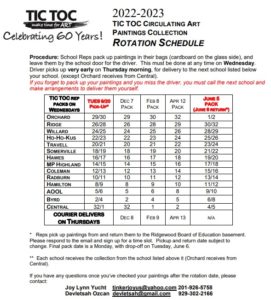 * Reps pick up paintings from and return them to the Ridgewood Board of Education basement. Please respond to the email and sign up for a time slot. Pickup and return date subject to change.
** Each school receives the collection from the school listed above it (Orchard receives from Central).
Stephanie Ohnegian at snohnegian@hotmail.com